Hello & welcome to FurBabies Grooming
About Us
At FurBabies Grooming we offer a warm, friendly and highly professional service providing convenient pet grooming treatments that come to your home. Our comprehensive range of grooming and pampering services ensure the well-being and comfort of your beloved dog or cat. During our visit your furbaby receives a 1-2-1 hands-on, caring service, helping reduce any stress they may feel when 'bath time' is mentioned. Grooming provides an excellent opportunity for social interaction and is a fun and enjoyable experience helping build a trust-bond with your pet.
Mobile Grooming
All of the elements of the groom are carried out in our large, fully equipped, mobile grooming van that contains a hydro bath, blaster dryer and hydraulic grooming table which allows us to offer a complete range of treatments to suit your pet's needs, without messing up your home. The hydro bath shower head sprays a soap and water mix over your pet, getting deep through the coat with therapeutic benefits, massaging your pet whilst allowing shampoo to penetrate to the skin, helping to remove dirt, infections and fleas. The hydro bath massage is also beneficial to dogs with poor circulation, helping those tired muscles and even easing arthritis. The bathing booth is purposely designed for your pet who is safely secured whilst we wash them.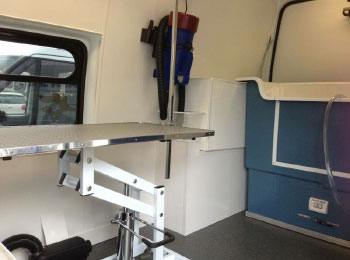 The Best Products
We only use the very best products which are free from any harmful chemicals. Only natural and organic shampoos and conditioners are used to avoid any irritation to sensitive skin and are safe for puppies and kittens too. We never use cold water as we carry our own clean water in onboard storage tanks which is thermostatically heated before being used to wash your pet. All equipment and surfaces are disinfected after each groom, ensuring a clean and healthy environment.
Our services range from a basic wash and brush right through to full groom pampering. We also offer hand stripping, dematting, carding, thinning, ear and teeth cleaning, nail clipping and 'Pawdicures' to ensure your pet always looks their best. Each groom is carried out to breed standard and all pets in our care are treated with affection and respect. We make sure no pet is subjected to any stress or discomfort and all pets are groomed in accordance with 'The Animal Welfare Act 2006'.